WHAT IS THE CHAMPAGNE SOCIETY?
We are a community that believes EVERY MAMA deserves a break and some bubbly.
We remind each other it can be "motherhood, AND" instead of "motherhood, OR" and that with a Society of women encouraging you, YOU GOT THIS.
EVENT DETAILS:
Thursday, April 25th
6:00–8:00 pm
The Parlour Upstairs at Parcel 32
442 King Street, Charleston SC 29041
THIS EVENT IS SOLD OUT!
YOU CAN STILL JOIN US VIRTUALLY, THOUGH!
THE VENUE:
THE PARLOUR AT PARCEL 32 IS CHARLESTON'S NEWEST SECOND-STORY COCKTAIL LOUNGE OVERLOOKING KING STREET. LIKE ITS DOWNSTAIRS COUNTERPART, PARCEL 32, THE PARLOUR FOCUSES ON PROVIDING A WARM AND INVITING SPACE FOR GUESTS TO GATHER AND ENJOY HANDCRAFTED COCKTAILS AND LOCAL FARE. THE PARLOUR WAS INSPIRED BY THE TRADITIONAL WELCOMING CENTER OF OLDER HOMES, IN KEEPING WITH OUR NOD TO OUR 19TH CENTURY CHARLESTON SINGLE DWELLING. THE RELAXED, YET UPSCALE LOUNGE PROVIDES A FULL BAR WITH A FOCUS ON CLASSIC COCKTAILS, AS WELL AS WINE, BEER, AND FOOD.
EVENT SCHEDULE:
Once you climb the stairs to The Parlour cocktail lounge at Parcel 32., you'll be greeted with a welcoming smile and one of two signature cocktails of the night, crafted with Chandon sparkling wine and Belvedere Single Estate Rye Vodka. Come on time (6pm) so you have a chance to sample the delicious Parcel 32 hors d'oeuvres being passed and mingle with fellow attendees before the main event.

We'll gather for the "Honest Conversation" at 6:30pm where Mindset Coach for Mothers, Gervase Kolmos, will interview Dr. Darria—a mom of two who specializes in women's wellness—on her new best-selling book, Mom Hacks; easy, science-backed shortcuts to better postpartum health; and her personal juggle of motherhood, health and (killer) career. Widely renowned as an expert in making life and health better for women, Dr. Darria Long Gillespie, MD MBA is a regular national TV health expert, frequently contributing her expertise to CNN, Dr. Oz, Romper, Women's Health, Bustle, Allure, Parents and more!
Halfway through the conversation there will be an intermission for another round of Parcel 32 appetizers and Chandon/Belvedere cocktails, and we'll get a surprise plus the low-down on what we're drinking (and how to recreate it at home). We'll then dive back into postpartum health and all things motherhood with Dr. Darria, and as always, questions from the tribe are encouraged from beginning to end.
THE AFTER-PARTY
At 7:30-8pm, we'll wrap the interview portion, and you will have a chance to keep the party going as we roll right into our official after-party onsite at Parcel 32! From 8-11pm, in The Parlour and the downstairs bar/restaurant, check out the restaurant's varied food & drink menu, all available for purchase.
*Post-event, hop into our attendee-only Facebook group to continue networking and growing as a human who also moms, instead of a mom who barely humans.
PSA: This will NOT be your traditional "Mom's Night Out." You've been warned. Dress to impress!
PSA #2: As this is an adult audience, there will likely be some adult language. If this offends you, this may not be the event for you.
MEET OUR REAL MAMA PANELIST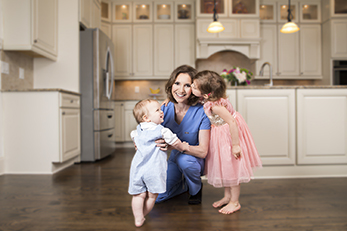 Award-winning, globally recognized Harvard & Yale Trained ER Doctor Darria Long Gillespie, MD, MBA, is the go-to for all things health and mom hacks. This emergency physician and mom of two specializes in women's wellness, frequently contributing her expertise to CNN, Dr. Oz, Romper, Women's Health, Bustle, Allure, Parents and more! As an Emergency physician, Dr. Darria understands having too much to do in the most stressful of situations – and too little time to do it. She quickly learned techniques to save time – and lives. But when she developed autoimmune arthritis and went from running daily to barely able to walk, it was a wakeup call to find solutions for her own health challenges. Having turned around her own health, she now brings these same high-yield strategies for to women and moms to empower them to reclaim their health, harness their stressors, and become unstoppable.
THIS EVENT IS SOLD OUT!
Join us virtually, from anywhere in the world!
OUR SOCIETY LOVES TO GIVE BACK
Since the launch of our Society-funded "Help a Mama out of the House" Fund in 2019, attendees have pooled their resources and gifted 10 tickets (valued between $40 and $55) to fellow deserving mamas who, for whatever reason, could not afford this elevated and inspiring Moms' Night Out. This is our community's unique and impactful way of giving back, and we couldn't be more proud. Our community truly believes that EVERY MAMA deserves a break and some bubbly, and this is our way of paying it forward and making these girls' nights accessible to every mama, no matter what financial season of motherhood she's found herself in.
PEEP SOME PICS FROM PAST EVENTS BELOW
Women in all stages of mothering, from SAHMs to CEOs are invited!
Not a mom?
You're always welcome, and this WILL be an event and open discussion focused on the behind-the-scenes juggling act of real moms in the community (#thejuggleisreal).
FAQs:
I'm not a mom. Am I welcome here?
ALL women (sorry, boys!) are welcome at Champagne Society events, whether you are mothers at any stage or not. That being said, the focus of this event WILL be on the unique balancing act mothers experience in all areas of their lives, but the wisdom shared will easily apply to women in all stages of life. We have plenty of repeat attendees who know they WANT to have children someday (or they're currently pregnant), and they all report loving this community and feeling significantly less freaked out about the idea of having kids if/when the time comes because of these conversations.
Can I come alone?
The Society is so super friendly, so YES, if you can't find a wing woman, just bring your fabulous self and walk right up to Gervase or the first mama you see and introduce yourself! It's such good practice in making yourself super uncomfortable in the name of saying YES to new experiences that you thank yourself for later. Promise.
What should I wear?
This is NOT your typical Moms' Night Out. Dress to impress. We don't have enough excuses to get (and feel!) glam in our daily lives, so heels, jewelry, lipstick, dresses, etc are welcome! That being said, whatever you feel comfortable in! If you are a heels, jeans and jewelry kind of gal, that works! It ALL belongs in this society. You can find pictures from our past event on a scrolling bar at the top of this page. I know, I know – it's SO stressful when someone forces you to MAKE time to go shopping for YOU to find something you feel fabulous in for a super special night out. You can thank us later!
Can I buy tickets at the door?
No. If there are still tickets available, you can buy yours at the link above and THEN run out the door, but every event since October has sold out, so buy your tickets ASAP so you're not caught on our waiting list kicking yourself! I know . . . it's hard to commit. I get it. Your call, but you're going to have massive FOMO. Just sayin'.
Should I eat dinner before I come?
I would save room for the heavy hors deourvs being passed by Parcel 32 throughout the two hour event and then plan to dine in on their full restaurant menu at the official Parcel 32 afterparty!
Is there an afterparty?
Yes! We like to keep the energy of the night going with an official Society after-party - we're thrilled to announce Parcel 32 (where we'll be for our event) is ALSO the site of our after-party!
Should I drive or Uber?
Uber or carpooling with friends coming from the same area is highly encouraged so you can really enjoy yourself and not worry about logistics! Parking is limited meter parking on King Street, or the Visitor Center Parking Garage is around the corner (technically directly behind Parcel) and has easy and affordable parking, as well!
I bought a ticket, but now I can't make it. Can I get a refund?
Tickets are not refundable, but they are transferrable! Post in the Facebook event and you can sell your ticket directly to another mama, or gift it to a friend. However you choose to transfer your ticket is fine with us! Just have the new ticket-holder give YOUR name at the door and you and your ticket buyer can work out Venmo transfers, etc.
I bought a ticket and received an email confirmation. Do I need to show that at the door?
If you received an email confirmation, rest assured your name will be on the guest list when you arrive and someone from the Unicorn Squad will be checking you in. No need to pull up anything on your phone (personally hate doing that!)!