WHAT IS THE CHAMPAGNE SOCIETY?
This is a lifestyle and community where moms go to feel like themselves again. Yes, we do exist, and yes, you are welcome here! Oh, and yes, we love our bubbly and real talk about motherhood, life, career, and the heroic juggling act (we tend NOT to call it "balance") of motherhood, AND (fill in the blank). Our promise - judgement-free "me, toos" from like-minded moms and a whole lotta bubbles and laughs.
WHAT'S THE "SWEAT" SERIES?
The Champagne Society: SWEAT - is a Saturday morning series that starts with a self-care sweatfest (like yoga, dance, etc) to get you feeling amazing and finishes with an Honest Conversation facilitated by Certified Mindset Coach for Mamas, Gervase Kolmos, and a panel of mindful moms who are juggling "motherhood, and."
EVENT DETAILS:
Saturday, February 2, 2019
10am - 12:30pm
115 Pierview St
Daniel Island, SC 29492
WHAT TO EXPECT:
Phase One: 10-11 AM
Upon arrival, you'll be greeted with a big smile and a high-vibe all-levels hip-hop class taught by Angel Roberts in her wildly popular (and mega hip) dance studio. There will be silliness and laughs and straight-up slaying. Take it seriously, or don't. You're only dancing for YOURSELF - to let loose and reconnect to yourself as a human who also moms, instead of a mom who barely humans. A Peace Love Hip Hop class is first and foremost a dance party. The best new music and fresh choreography come together to make each class unique. We sweat, we work, we get the demons out. We dance full out and take a vacation from the "real world" for 90 minutes. And we leave better prepared to be the life of any party.
Phase 2: 11 AM - 11:15 AM
After we dance our asses off, we'll treat ourselves to bubbly generously provided by Chandon, along with smoothies from Hustle Smoothie Bar (Peanut butter chocolate cravings smoothie and their green smoothie, to be exact!). There will also be coffee and some light bites from a local sponsor. You'll get a chance to meet some of the other women in the room with a quick ice-breaker. Bring a yoga mat, as you'll be asked to find a spot to sit in the studio for the Honest Conversation!
11:15 AM - 12:15 PM
Gervase will interview Angel Roberts, CEO of PLHH and mom of 2, about her unapologetic version of "motherhood, AND." Questions from the tribe are encouraged.
12:15 pm - 12:30 PM
Get the names and numbers of some new mama friends as you say goodbye, patting yourself on the back for killing two birds with one stone (you know you love multi-tasking) and taking care of your body and mind, while also meeting some new peeps and taking in all the inspo and tips from an Honest Conversation.
WHEN YOU GET HOME:
Jump into our invite-only Facebook community for Champagne Society guests - your new home-base to stay connected with your new mama tribe.
MEET OUR REAL MAMA PANELIST: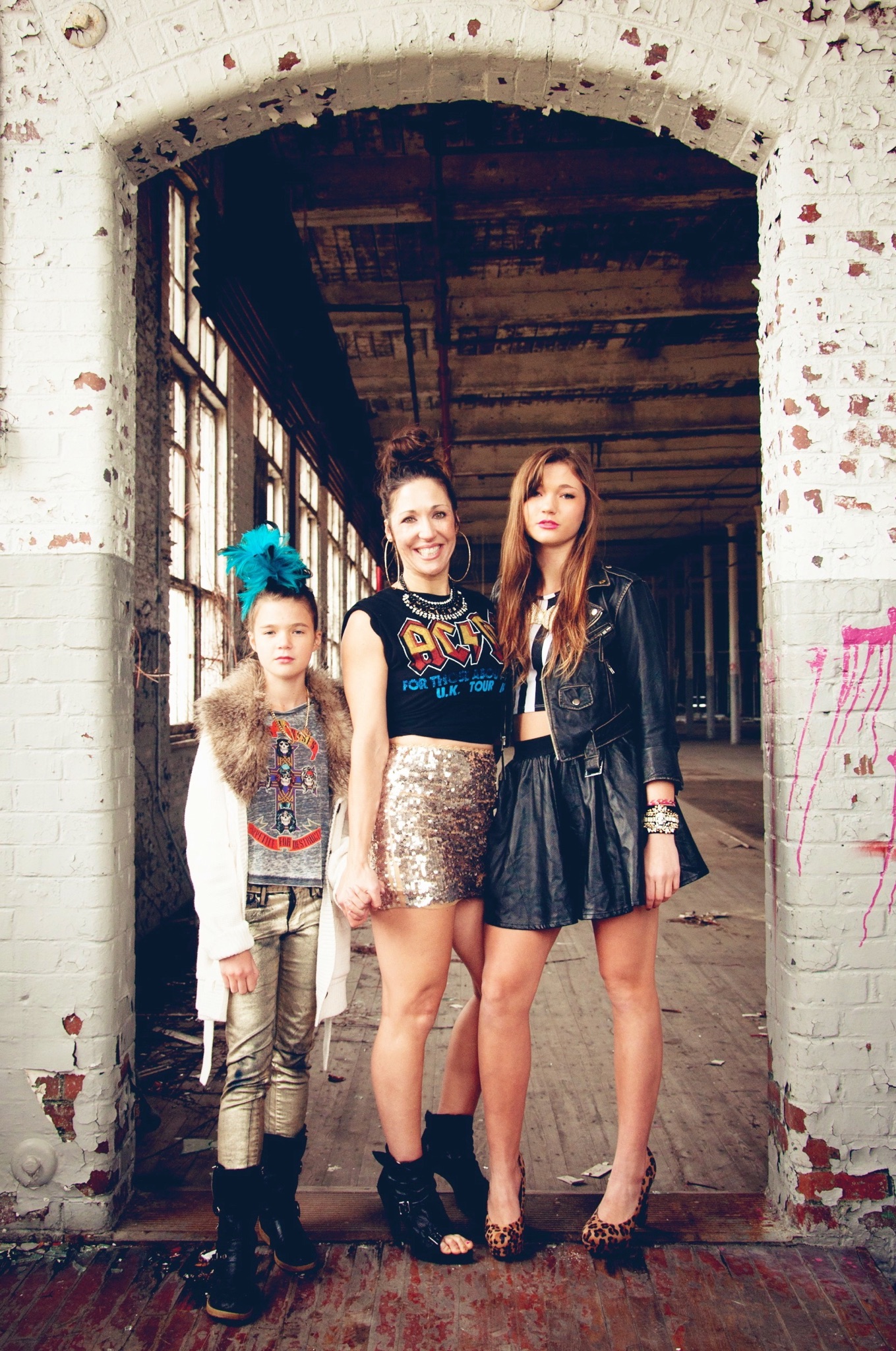 Angel Roberts is a dancer, teacher, choreographer, and an award-winning costume designer with 20 years of dance and production experience. Angel was a costume designer on That 70's Show and won an Emmy for her work. She is also the founder of the national dance movement and studio Peace Love Hip Hop located in Charleston, SC. Her competitive hip hop groups compete at national dance competitions across the U.S. She has toured the country teaching a positive message with her creative choreography and costume designs.
*NOTE: Please contact us at hello@shinyhappyhuman.com, if you'd love to get some mama self-care, sisterhood and sweat for you or a girlfriend, but for whatever reason the ticket price is prohibitive. Volunteer opportunities available in exchange for free tickets.
MEET OUR NEWEST CHAMPAGNE SPONSOR, CHANDON . . .
FAQs:
I'm not a mom. Am I welcome here?
ALL women (sorry, boys!) are welcome at Champagne Society events, whether you are mothers at any stage or not. That being said, the focus of this event WILL be on the unique balancing act mothers experience in all areas of their lives, but the wisdom shared will easily apply to women in all stages of life.
Can I come alone?
The Society is so super friendly, so YES, if you can't find a wing woman, just bring your fabulous self and walk right up to Gervase or the first mama you see and introduce yourself! It's such good practice in making yourself super uncomfortable in the name of saying YES to new experiences that you thank yourself for later. Promise.
What should I wear?
Something you feel comfortable dancing in! Yoga clothes works fine or just something that makes you feel like you've got a little swagger!
Can I buy tickets at the door?
No. If there are still tickets available, you can buy yours at the link above and THEN run out the door, but every event since October has sold out, so buy your tickets ASAP so you're not caught on our waiting list kicking yourself! I know . . . it's hard to commit. I get it. Your call, but you're going to have massive FOMO. Just sayin'.
I bought a ticket, but now I can't make it. Can I get a refund?
Tickets are not refundable, but they are transferrable! Post in the Facebook event and you can sell your ticket directly to another mama, or gift it to a friend. However you choose to transfer your ticket is fine with us! Just have the new ticket-holder give YOUR name at the door and you and your ticket buyer can work out Venmo transfers, etc.
I bought a ticket and received an email confirmation. Do I need to show that at the door?
If you received an email confirmation, rest assured your name will be on the guest list when you arrive and someone from the Unicorn Squad will be checking you in. No need to pull up anything on your phone (personally hate doing that!)! If you have any questions about your ticket, contact us at hello@shinyhappyhuman.com.